---
The most important thing to remember to make sure your water softener keeps working reliably is the topping up of salt on a regular basis.
Simply fill the cabinet with tablet salt to about just over 3/4 of the overall height inside the softener, if you are using granular salt please fill to around 1/2 way only.
The salt is used to produce a brine solution by the softener, the brine is used as the cleaning agent during the regeneration process for the resin bed to be able to carry on producing more soft water.
Finally salt is salt, it dissolves in water to make a brine solution so you can use either tablet, granular, or block salt in our units however we recommend tablet salt simply because it makes the least mess if spilt and it's the most cost-effective to use in terms of price per kg. DO NOT USE ROAD SALT.
You will find Water Softener salt sold in most household DIY stores, plumbers and builder merchants, many fuel filling stations, and of course through independent salt suppliers who deliver to your door in bulk.
BYPASSING YOUR WATER SOFTENER
---
There are occasions when you may need to isolate your water softener. It may be that you are simply moving and wish to take it with you or if it has broken down and needs attention. In these circumstances, it can be isolated before we attend the site to carry out any repairs.
WATER SOFTENER (OPERATIONAL)
The above diagram shows your inlet and outlet taps open and the bypass tap closed when your water softener is correctly operational.
WATER SOFTENER (BYPASSED)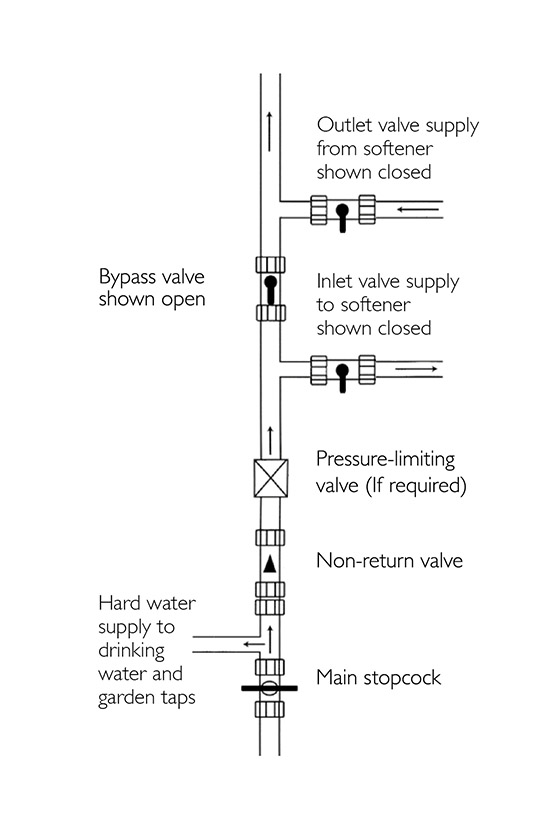 The above diagram shows the water softener isolated or bypassed. Simply turn the inlet and outlet taps to the closed position and then open the bypass tap. This way no water will pass through the softener unit.
FIND OUT MORE ABOUT THE BENEFITS OF USING GENUS WATER
CALL US ON 01376 553777 OR CONTACT US HERE